Dear Melissa:
2018 poem-video I created for the Academy of American Poets' Poem-A-Day series, as part of the initiative Where My Dreaming and My Loving Live: Poetry and the Body. I am reading one of my poems from my "Dear Melissa:" series.
---
Lunch Poems
Reading in 2018 at University of California Lunch Poems series, hosted by giovanni singleton and introduced by Geoffrey G. O'Brien.
Photo by Patri Hadad
---

Here is a line from "What Space Faith Can Occupy" (a poem in Gephyromania) on fellow poet and new friend Keren Díaz de León's arm. I was in a restaurant in Tucson when a person walked up to me and asked if I was TC Tolbert (this person is the amazing Azúl Galindo, also now a new friend) and said a friend in Chicago had one of my lines tattooed on their arm – 15 minutes later Azúl produced this image and I still can't get over the honor of someone wanting words I've written to stay with them for life. Thank you, Keren, for reminding me that every day is a "monolith of try."
---
Turning to Hear the Last Leaves of Stargazer Fall Rinky Dink Press, 2018
Rinky Dink Press is "a microzine press that marries a DIY attitude with skilled poetics and fine-art aesthetics." In 2018 they published Turning to hear the last leaves of stargazer fall, a collection of very short poems written in the wake of a car accident and all the shifts in attention such a trauma can bring.
Photo by Shawnte Orion
---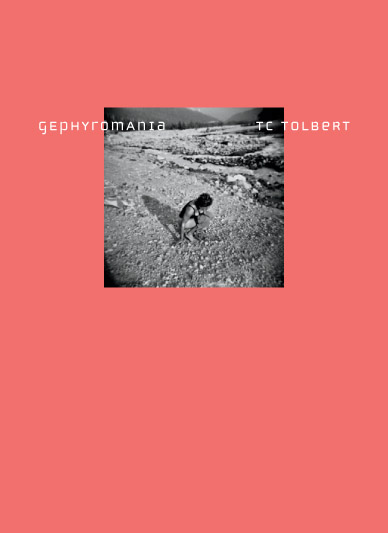 Gephyromania
Ahsahta Press, 2014
PURCHASE
In Gephyromania (literally, an addiction to or an obsession with bridges), Tolbert's choice isn't between female and male, lover and self, or loss and relief, but rather to live (willingly, intentionally) in the places where those binaries meet.
Gephyromania teaches us that to unmake a body, language, and thereby a world is as meaningful (perhaps more so) than building—and that unmaking is, oxymoronically, a form of creation. This collection presses hard and urgently against the throat of mainstream western notions of what it means to inhabit a gendered body. A truly necessary book! – Dawn Lundy Martin

Tolbert's linguistic imagination, his sense of the ways words can join and shatter, is omnivorous, and the boundless possibility of his language counterpoints the painfully bounded possibilities of bodies and hearts from which these poems emerge. The love here doesn't alter but the speaker does, and the music of these poems is the music of body and soul soaring together as they tear apart. – Joy Ladin

TC IS SISTER BROTHER ALL OF OUR WEIRDEST WEIRDNESS WRAPPED IN ONE CIGAR. This book is stunning. Every letter feels cared for. Poetry to undiminish the real lives of a ruined empire is in your hands right now. Do you own this book yet? Do you plan on lending it out? Do you want to see it again? DON'T BE A FOOL!! Let them buy or steal it for themselves. – CAConrad
The Rumpus review of Gephyromania
The Publisher's Weekly review of Gephyromania
The Lambda Literary review of Gephyromania
Sarah Cook's review/letter to TC
---
I: Not He: Not I
Pitymilk Press, 2014
PURCHASE
TC Tolbert's i:not he:not i shows us what a singing, breathing body is. It offers a cyclical, careful examination of the tiny miracle-machines beneath the skin. i: not he: not i is dedicated to Stewball and MT. For love and letting go. 24 pages. Hand sewn. Cover letter pressed on craft card-stock. Colored collages by Liz Kremer.
---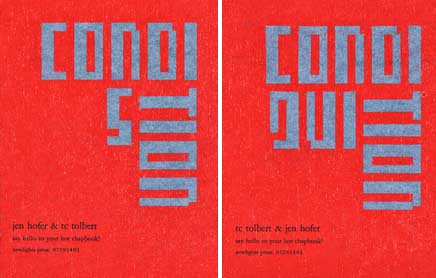 Conditions / Conditioning
NewLights Press, 2014
PURCHASE
Conditions/Conditioning was made for a reading by Jen Hofer & TC Tolbert, the fourth in the Say Hello to Your Last Poem! series, on July 29, 2014, in Manitou Springs/Colorado Springs, CO. This book is a single-spine dos-a-dos, written in direct collaboration by the two authors specifically for the format, specifically for this publication. Corie Cole helped with proofreading, and CJ Martin & Julia Drescher helped with binding.
---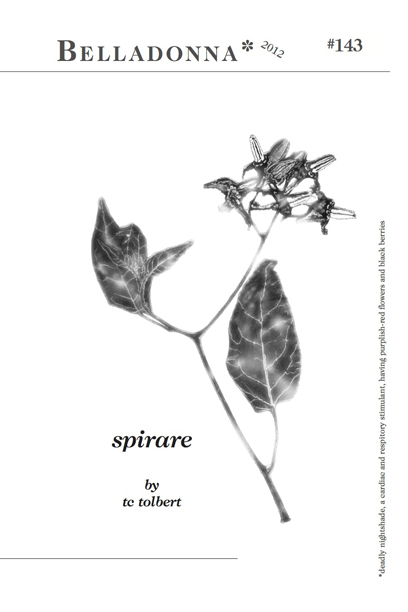 spirare
Belladonna *, 2012
SOLD OUT
The tension in TC's poems pulls me in closer, the thought in them keeps me thinking, and their tenderness (relating both to pain and to an ultimate gentleness) opens and enlarges me, as I trust it will do for most of its readers.
– Kristi Maxwell
In the words of John Berger: "We only see what we look at. To look is an act of choice." TC's work makes the choice to look, and if we choose to go along with him, what we see is a world sharpened, sliced open, defiantly naked. – Arianne Zwartjes
What I really love about TC Tolbert's personhood and writing (and they feel so intertwined)…his writing is severely personal, of the person, but decidedly not confessional. What I love is the no bullshit urgency, kindness, insistence, presence, comprehension, tenderness, giddy-glee, sly-serious, unflinching, look you big in the eyes, confronting bleeding, and psychosis, and suicide, and murder, and somehow stay open. The conscious choice toward – to move through text to what we might call light. – Cara Benson
---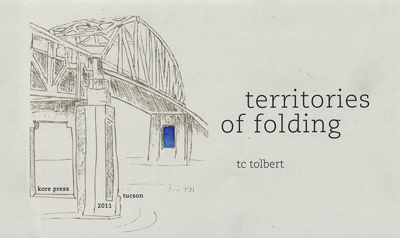 territories of folding
Kore Press, 2011
PURCHASE

TC Tolbert's debut chapbook uncovers the landscape of life ever in motion. In language flickering with love, loss, and liminality, and with adamantine accuracy, this work bridges many seemingly distant land masses: female and male, girl and boy, music and silence, body and space. territories of folding embodies the poet's transition "from woman to something less visibly female" and reveals the cyclic journeys of construction, deconstruction, and reconstruction of the person contextualized by an outward societal framework. "Having lived through the funnel both ways," TC Tolbert acknowledges and bravely challenges traditional schemes of hegemony with a conscious commitment to the unique multiplicity of the self, who is at once (and always) transitory and timeless. – Kore Press
The design of territories of folding is not the only mind-expanding thing about this innovative volume. TC Tolbert's reimagining and retooling of language is so evocative and suggestive, skirting towards the edges of possibility, that I can almost feel new neural pathways growing inside my brain as I read and re-read the text and interact with the book's design. I wish I could give this book as a gift to everyone I know who is dedicated to resisting narrowness and confinement--engaging with this work builds and requires a spaciousness, fluidity, and unpredictable complexity that I think many of us are trying to cultivate inside ourselves and manifest in the world. – Dean Spade
Because a body cannot be easily fathomed, Tolbert's territories of folding leads the reader into the universe(s) of what cannot be easily said, and what lies in between what can be said. Through the virtuoso use of space, breath, and repetition, Tolbert creates an architecture that stand[s] between the text and its articulation. This book tears apart the easy masks of perception and our snap understandings of a body, a body's history and personhood. Tolbert makes is the function of language to reveal and to unfold what the mouth uncovers – through the multiple throats of infinite transformation. – Samuel Ace